Nirvana – Smells Like Teen Spirit

The hit grunge rock song by band Nirvana, Smells Like Teen Spirit, was released on the 10th of September 1991 and was both the opening track and lead single from Nirvana's second studio album, Nevermind. The single was well received commercially, going on to become the bands biggest hit in almost every country they were popular in, particularly the United States and the United Kingdom.
Smells Like Teen Spirit was such a success in the music scene that it is regularly pointed at by critics and musical historians as being one of the songs that both defined and brought the grunge scene into the mainstream. The song, and indeed the entire grunge scene, was characterised by a simplification that greatly contrasted the metal from which it was derived from. The melodies and riffs were simplified and grand guitar solos were cut out almost entirely.
The song almost didn't happen, as when the band first started writing songs for the album, the bass player for Nirvana, Krist Novoselic, dismissed the riff as ridiculous. In response, Nirvana frontman, Kurt Cobain, made the band play the iconic riff for an hour and a half until the bassist and drummer decided to join in and fill out the rest of the melody.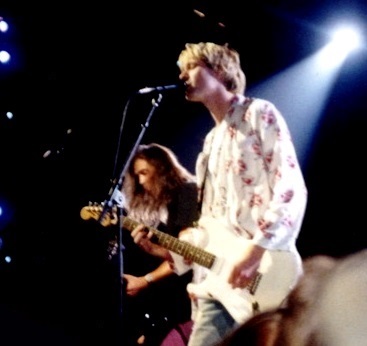 The first rough recording was sent to the band's producer, Butch Vig, who felt that the song had promise and deserved a proper recording.
The song was so successful that it propelled Nirvana into the spotlight, where they remained for many years despite not releasing another single that was as well received as Smells Like Teen Spirit. The band began to become uncomfortable with the success of the song, eventually even deciding not to play it whilst touring. The success of the song has also been attributed to being a factor in the depression of Kurt Cobain and his eventual suicide given that the song increased the amount of stress he had in his life, although this has been disputed by a number of individuals close to him.
The music video for Smells Like Teen Spirit was filmed in a high school gymnasium filled with fans of the band who were playing the part of high school students. The video was toned down compared to a number of videos that were being produced by other bands at the time, in line with the band's overall style. The video became just as popular as the song, with MTV adding it to their list of music videos that they played regularly. Although the song has fallen out of mainstream popularity, it can still be regularly heard on radio stations and music television channels that play songs that were released during the 1990s.